Interview with Aliki Valores
Author of The title of my latest book, published on September 1, 2019 in Dubai, is "The Miraculous Plant of Daedalus".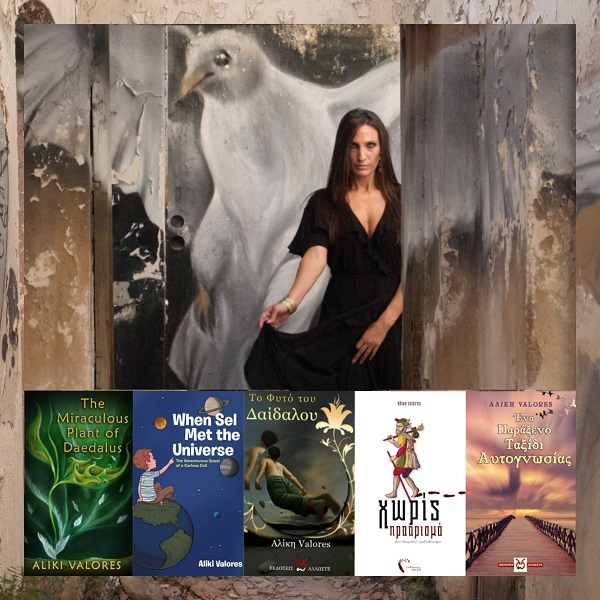 Where are you from originally and where do you reside now?
I'm from Athens, Greece and the last years I reside in Dubai and Bahrain.
If you currently reside somewhere besides where you were born, what's the story that lead from there to here?
I used to teach in Dubai for the last four years and since 2019 in Bahrain. I frequently travel a lot though for several presentations of my books and creative writing sessions. I love Greece, so basically I travel for business purposes.
What made you decide to write and publish your first book?
Writing wasn't so much a decision for me. I would say it was my 'calling'. I used to write from a really young age. When I finished college I did post graduate studies in Creative Writing. No matter what I did, teaching or even working as a flight attendant I used to write. I wrote my first book when I was 25 years old. It was published a few years after in 2013. After that I have written four more books.
How would you describe your books to first time readers?
All my books are self-knowledge books based on fiction stories mixed with fantasy, mystery, philosophy or psychology. All of them aim for a better world so their main core is spiritual and human values. This is also the reason why I chose this pen name since Valores means values.
Who do you feel is most likely to connect with the topics you write about?
I think all kind of readers and book lovers would easily read and connect with my topics as the protagonists of my stories could be each one of us. The subjects that appear throughout the stories and the dialogues are daily and substantial matters that concern all of us. So whoever is open-minded, whoever needs answers, whoever likes change and improvement, is the reader who connects the most with my books.
What unexpected or surprising thing did you learn during the process of writing and publishing?
To double check everything…! Communication nowadays unfortunately has become so difficult especially now that everybody works online so instead of expecting the unexpected, double checking can save you lots of wasted time in the future.
If you could, what advice would you give to your past self before embarking on this journey?
Since I trust what I do it would be an encouragement rather than an advice. I would say "You are doing great, keep listening to your heart."
How many people would you ideally like to reach with your books?
I always believed that quality is more important than quantity. So my answer is, I would like to reach people that they would like to be reached by my books.
What has been the biggest challenge and frustration during the process to date?
My biggest challenge was my books to be accepted by well-known traditional publishers which they did and I feel really grateful about that. My biggest frustration were mistakes found in one in my foreign editions that I wasn't aware of after lots of hours of online communication and hard work which of course needed afterwards to be changed.
What's your biggest strengths when it comes to book a) writing, b) publishing and c) marketing?
Writing, publishing and marketing are a chain for an author. In all of these steps I stay focused, patient and always authentic.
What's your biggest weakness when it comes to book a) writing, b) publishing and c) marketing?
I believe when you chose to do something like that there is only hard work and improvement.
When do you think you will write your next book?
I have already finished my new book. It is a mystery self-improvement book inspired by true facts. I'm really excited about that! It will be published really soon.
Are you self published or did you use a hybrid publisher, or a traditional publisher?
I cooperate with publishers around the world and publishing differs from place to place. The contracts and the process in Europe, in the Middle East or at the United States are totally different. So mostly I use traditional publishers.
FEATURED AUTHORS
Interview with Darrell K. Jackson
Author of  The Sign of Christ If you currently reside somewhere besides where you read more
Keep Reading »