Interview with Carol Keesee
Author of The Angry Thunderstorm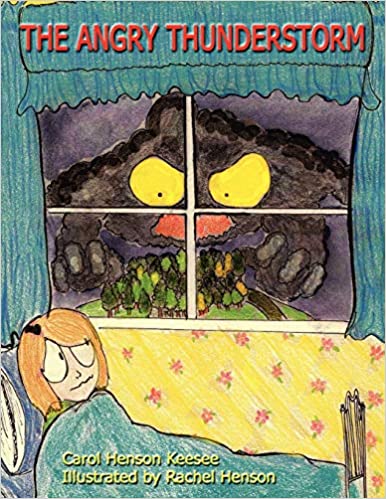 Where are you from originally and where do you reside now?
I was born and raised in Austin, Texas. Austin's slogan is "Keep Austin Weird." I currently reside in a suburb that is just Northwest of "Weird" called Leander, Texas.
If you currently reside somewhere besides where you were born, what's the story that lead from there to here?
I have never left my hometown, although I almost moved to Houston, Texas for a job opportunity. In the end, the money wasn't enough to get me to leave my hometown. Everything about Austin is perfect. Maybe that's why so many people are moving here from all over the world.
What made you decide to write and publish your first book?
When I was a child, I was afraid of thunderstorms. I never considered the wonder of the storm or what they do for the earth and to help with our existence. As I grew older, I began to love storms…today, I actually find them soothing. When I married and had children, they too had a fear for storms. I had to think of a way to put a positive light on the the negative aspects of the storms behavior.
How would you describe your books to first time readers?
The Angry Thunderstorm takes a child on a journey from uncertainty to understanding. It helps them focus on the positive things that come from a storm's negative behavior.
Who do you feel is most likely to connect with the topics you write about?
Young children love the story. Parents find that it helps them allay fears. While all storms are unpredictable and some are very violent, children come away with an understanding that not all storms are bad.
What unexpected or surprising thing did you learn during the process of writing and publishing?
I learned that children's literature is very competitive and that getting picked up by a publisher in this genre is very hard unless you can prove that your work can be highly marketable. It's a little unfair as there are a lot of self-published authors that are extremely talented.
If you could, what advice would you give to your past self before embarking on this journey?
I always asked myself, will this book help someone? I never embarked on this journey for notoriety or to become rich. My main focus was helping to allay a common phobia among children. The reward of knowing that you have helped just one child is an amazing feeling. For instance, several years ago, the City of Nashville and the surrounding area was hit by numerous storms and there was severe flooding. I sent books to several of the elementary schools in the area. One of the Librarians wrote me a letter thanking me for the book. She told me that storms had rolled in again and she brought several classes into the library and they read The Angry Thunderstorm. Afterwards, they had questions and answers and the Librarian asked, "What was one thing you learned fro this book?" One little girl, who floated out of her house on a piece of furniture and whose family lost everything in the flood,
raised her hand and said, "I learned that not all storms are bad." She probably had more reason to be fearful of storms for the rest of her life, but the book gave her a different perspective.
How many people would you ideally like to reach with your books?
I wish I could put the book in the hands of as many children who have a phobia of storms. I really do think The Angry Thunderstorm offers a different perspective into a storm's negative behavior.
What has been the biggest challenge and frustration during the process to date?
Finding the time and means to market the book properly. When you are self-published author, everything comes out of pocket. I do print on demand. The price to produce each book is $10.95 for a paperback book. I have to raise that price to accommodate shipping and handling, etc. Still, I also have to be careful about over pricing. I barely break even on the sale of the book.
What's your biggest strengths when it comes to book a) writing, b) publishing and c) marketing?
My biggest strength, I think, is creativity and imagination. I come up with ideas all the time for topics that would make great stories. I like writing about nature, and conversations and stories that could be told by hundred-year-old trees. What is the history they've seen? You can find so many things to write about that others would find fascinating…probably topics that they've never even thought about. Topics that might help others to think differently.
What's your biggest weakness when it comes to book a) writing, b) publishing and c) marketing?
Making time to sit down and just write.
When do you think you will write your next book?
I have three new books that I am working on. Two are children's books. One is a cookbook. I have recipes that were handed down by my husband's great-grandmother, grandmother and mother.
Are you self published or did you use a hybrid publisher, or a traditional publisher?
I am a self-published author. I did several submissions to traditional publishers; but,children's literature is a very competitive market to get into. Each publisher has their own set of rules for their submissions. It is costly to do these. You have to submit a copyrighted sample of your work along with a self-addressed envelope for the publisher to send their denial back to you. It's a time-consuming and unrewarding experience for most.
FEATURED AUTHORS
Interview with Satwinder Vig
One way to follow this journey is to learn kundalini yoga so that you read more
Keep Reading »