Interview with Anna Bozena Bowen
Author of HATTIE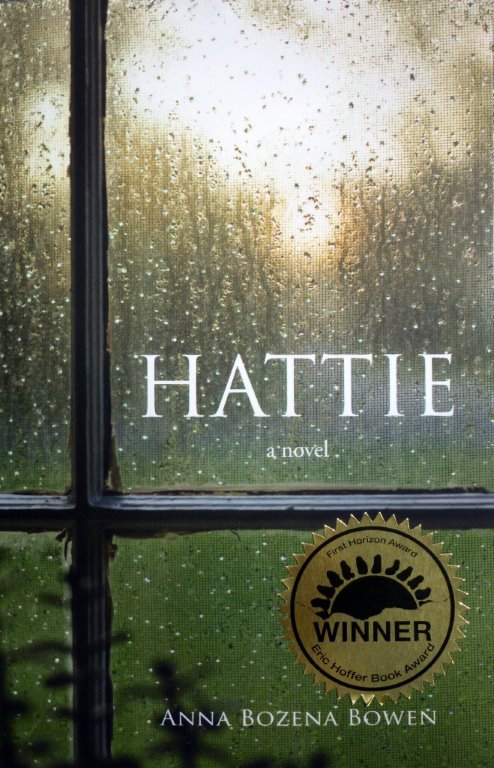 Where are you from originally and where do you reside now?
I was born in Holyoke, a mill town in Western Massachusetts, and was my Polish immigrant parents' first American-born child. Raised in a Polish community in this city, which was and still is home to many immigrants, I continued to live in Holyoke into my late twenties. After that my husband and I moved to South Hadley, a neighboring rural area where we have lived for almost forty years. Today we reside between our Massachusetts home and Napa Valley in California.
If you currently reside somewhere besides where you were born, what's the story that lead from there to here?
South Hadley is just over the bridge and across the Connecticut River from Holyoke. As a child I would play in the park in our inner city neighborhood and look across the river to South Hadley; a college town where homes were scattered among farmlands. My parents took us on Sunday drives there. It was a lovely escape from the inner city life. As a child I wished that I could one day live there. And I am grateful that intention manifested.
And Napa Valley, well that is a different story. Our first visit there two decades ago, captured Doug's and my adventurous spirits. It introduced us to a different lifestyle of food, wine and outdoor living, and showed us that winters did not have to be harsh like in New England. After numerous visits to wine country and more recently enjoying retirement, a house found us and we decided to give living on the west coast a try. Though it's a long day of travel, so far it's working out and we love the adventures.
What made you decide to write and publish your first book?
HATTIE came into being and evolved in a holistic way. It was 1986, I was in my mid-thirties, and as much as I loved being a critical care nurse, and a wife and mother, I felt something was missing in my life. I had been writing poetry for several years, and I decided to explore further education. I started with one summer course—The Short Story—at Holyoke Community College. There I fell in love with creative writing, poetry, and literature. It was soon after that, that I began writing HATTIE. I had been journaling extensively for several years, which also inspired much of my poetry. It was during a journaling moment that Hattie's voice connected with me. My intuitive and spiritual nature helped me to trust the flow of words that streamed through me. This connection grew over several years as the pages of handwritten script unfolded. There came a time when I realized that what I thought was going to be a collection of short stories was going to be a novel. I tried getting HATTIE published in the mid-nineties but after numerous rejections I decided to set my novel aside. Twenty years after finishing HATTIE I was encouraged by many writers at the International Women's Writing Guild (IWWG) Summer Conference to pursue publishing my novel. I remember reading at open mic sessions from my manuscript and hearing the hush in the auditorium as I read, and then the applause. So with that encouragement and my gained maturity, spiritual insight, and confidence in the significance of sharing HATTIE with others, I decided it was the right time to send HATTIE out into the world. As Hattie would say, "The world can be as small as the flesh around you, or as large as the winds your voice travels upon."
How would you describe your books to first time readers?
HATTIE is a soulful novel that reads like a memoir. It begins with the end of Hattie's life. In death, Hattie's spirit discovers her voice and the courage to tell her stories. Her narrative takes us on an intimate journey. As one reviewer wrote, "Hattie's story comes out of the heart and soul of what it means to be human in a sometimes inhuman world." HATTIE is a mystical, spiritual and very human experience. Hattie will capture your heart and once you finish this novel, like many other readers have said, you will miss her as you would miss a friend.
Who do you feel is most likely to connect with the topics you write about?
HATTIE is appreciated by readers of literary novels and those who are drawn to memoirs. As a work of fiction, HATTIE is multilayered and offers deeper meanings with its emotional, psychological and spiritual perspectives. Women are my largest audience because they relate on a personal level to the women's issues that I address in my writing. That said my audience is diverse because Hattie's voice connects with both men and women in various walks of life. HATTIE appeals to any reader who desires to feel a deep connection with a character and be moved by what they read. Book clubs love HATTIE. My novel also includes a conversation guide to enhance ones reading experience and inspire group discussion.
What unexpected or surprising thing did you learn during the process of writing and publishing?
Probably the most surprising thing for me as a writer was how easily words flow when I trust my intuition, my writing voice, and the creative process of putting words on paper. I have embraced my writing voice because it is what connects and draws the reader into relationship with my character Hattie. For me the goal has always been to move, inspire and help my readers reach a deeper connection with themselves; to help them connect to their wholeness – mind, body, heart and spirit.
The publishing process was full of surprises and challenges. My biggest surprise was that HATTIE received twelve awards after being published. What a thrill that was! The awards are listed on my website www.annabozenabowen.com
If you could, what advice would you give to past self yourself before embarking on this journey?
Back in the mid 1990s, when my initial efforts to publish my novel did not yield success, my past self knew it was time to put HATTIE down. Still it was a discouraging decision for her because there was such a commitment to this piece of work and belief in its value to help others. There was an intuitive knowing that Hattie's stories were meant to leave an impression on readers. Today I would tell my past self that, hard as it was, she was right to trust her intuition to hold HATTIE until the right time to publish revealed itself.
How many people would you ideally like to reach with your books?
The stories Hattie shares are pertinent to all women, and to anyone who relates to life issues such as spirituality, family bonds, motherhood, love, loss, trauma and its effects on a person, and intuition. Because of HATTIE's universal appeal my goal is to reach a world-wide audience.
What has been the biggest challenge and frustration during the process to date?
Initially there was a momentum to marketing HATTIE, especially with all the awards and recognition my novel received. As time passes, keeping my book in the forefront of readership and growing my audience is an on-going effort. This has been the most challenging aspect for me as an Indie author. Though at times this marketing process is frustrating, when new readers connect with me to share their profound experience with HATTIE I feel blessed that my novel continues to touch others.
What's your biggest strengths when it comes to book a) writing, b) publishing and c) marketing?
When it comes to writing, trusting in the process, which includes both the flow of words and the quiet times when nothing seems to flow, is a strength. And, whether I'm writing or not, I stay connected to my writers' community which is always supportive and helpful.
Successfully navigating my way through all the gray areas of publishing by doing extensive research, and being committed to my Indie author journey were strengths. When I was making publishing choices for HATTIE the most important aspect was to honor both Hattie's journey and my readers' experiences in the layout and design of the book. Everything mattered in how my HATTIE manuscript presented in book form!
My initial marketing efforts proved very successful. I had a hugely attended book signing at The Odyssey Book Shop, an established book store in our town. I setup a website. I did a lot of Gorilla marketing by leaving HATTIE postcards and author business cards everywhere we traveled, including the airline magazines in seat pockets. I submitted HATTIE to respected book awards, such as the Eric Hoffer Book Awards, hoping that the merits and value of this novel would be recognized. I cannot express the joys felt as I received one notification after another that HATTIE was receiving an award and being recognized for everything from "Superior Work by a Debut Author," Unique Voice, several awards for General Fiction, Cover Design, Visionary Fiction, and Women's Issues, among other categories.
What's your biggest weakness when it comes to book a) writing, b) publishing and c) marketing?
Not having an established routine and setting aside time for writing is my biggest weakness.
Regarding publishing, I'm not sure if this would be considered a weakness, but I had a tendency to at times candidly disagree with editors who suggested certain changes to my manuscript; changes that I knew and felt were not to be made. I was very committed to my vision of HATTIE as a published book and to how her stories unfolded in a nonlinear fashion.
At this point, my marketing of HATTIE comes in waves. My biggest weakness is not updating my website as frequently as I should and not being as website savvy as I would like to be.
When do you think you will you write your next book?
I have written a children's book and am contemplating publishing option. I am also working on a couple of other writing projects, one a memoir and another novel.
Are you self published or did you use a hybrid publisher, or a traditional publisher?
I am an Indie author. My commitment to bring HATTIE into the world as a superior piece of work whose book form would equal the quality of writing it held, determined my publishing choice.
FEATURED AUTHORS
Interview with Darrell K. Jackson
Author of  The Sign of Christ If you currently reside somewhere besides where you read more
Keep Reading »