Interview with April Coker
Author of The Keeper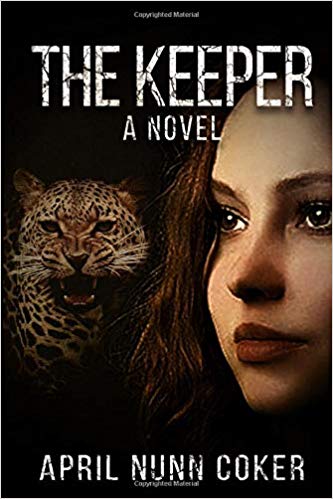 Where are you from originally and where do you reside now?
I was born in South Texas but moved to East Texas before the age of 3. I have lived in East Texas ever since.
If you currently reside somewhere besides where you were born, what's the story that lead from there to here?
My grandfather got a job in Tyler and they moved to East Texas. My father also got a job at the same plant so my parents moved here, too.
What made you decide to write and publish your first book?
I have been a writer for as long as I can remember. At the age of 10, I wrote stories to share with my friends. When I grew up I decided it was time to write a novel. It wasn't until I was much older that I finished a novel and decided to try and get it published. One of my goals as a high school senior was to be a bestselling author. I'm still working on that one!
How would you describe your books to first time readers?
My books are easy to read and keep the reader engaged. My first book "I'm Dreaming of a Black Christmas: A Holiday Survival Guide" is a humorous take on saving money and one's sanity during the holidays. The next books are romantic suspense novels about a group of zookeepers who work at night. Strange things begin happening to the animals, and someone with inside knowledge of the zoo is responsible.
Who do you feel is most likely to connect with the topics you write about?
People who like humor, and people interested in animals or zoos, romance and suspense.
What unexpected or surprising thing did you learn during the process of writing and publishing?
I didn't realize what a huge job writing a novel could be. Writing the first draft is almost the easiest part because after that come numerous revisions, rewrites, editing, and proofreading. Then there's publishing, either doing it yourself or finding someone who will publish it. Authors have to be tenacious.
If you could, what advice would you give to your past self before embarking on this journey?
Keep writing. Write as much as possible. Believe you are an author with something worthwhile to offer. Practice does make perfect. Persistence does pay. (Although I'm nowhere near perfect or well-paid!)
How many people would you ideally like to reach with your books?
Everyone who can read, of course!
What has been the biggest challenge and frustration during the process to date?
The biggest challenge and frustration is the marketing and building a fan base. I work at it every day.
What's your biggest strengths when it comes to book a) writing, b) publishing and c) marketing?
A) My writing strength is my command of grammar and spelling. I've always been very good at it, which led to me being a high school English teacher.
B) My publishing strength is picking great people to do my book covers and upload my books to Amazon for me.
C) My marketing strength is knowing I have to really work at it and am always learning.
What's your biggest weakness when it comes to book a) writing, b) publishing and c) marketing?
A) My biggest writing weakness is disciplining myself to write every day, even when I don't think I have the time. I can always squeeze in a few minutes.
B). My publishing weakness is that I don't have any desire to learn formatting and uploading myself. I'd rather leave it to those who enjoy it.
C) My marketing weakness is being too timid when it comes to self-promotion, but I'm getting better at it.
When do you think you will write your next book?
My next book has already been written. It's a children's book for which I am seeking a traditional publisher. My next novel will probably be the third in The Keeper series. It's ruminating in my brain as I speak.
Are you self published or did you use a hybrid publisher, or a traditional publisher?
I used a hybrid publisher with my first two books, I believe. It wasn't traditional in that they didn't buy my books and they did not market them. I didn't have to pay them upfront but I had to pay for copies and marketing opportunities. My latest two books were self-published with Amazon's Kindle Direct Program.
FEATURED AUTHORS
Interview with Darrell K. Jackson
Author of  The Sign of Christ If you currently reside somewhere besides where you read more
Keep Reading »