Interview with The Blakk Dahlia E. Alexicna Brown
Author of Devastation or Destiny???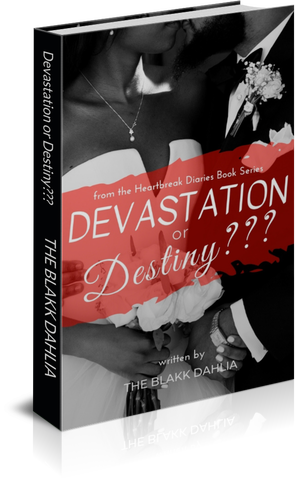 Where are you from originally and where do you reside now?
I'm originally from Macon, GA and now I reside in New York, NY.
If you currently reside somewhere besides where you were born, what's the story that lead from there to here?
I always wanted to live in a big city. Two years ago I decided to take my chance in New York City. I love the fast pace, hustle mentality of the city and the people. There's so much opportunity here and I wanted to be part of it.
What made you decide to write and publish your first book?
I started my book series, the Heartbreak Diaries, in 2014. I dealt with a lot of "hiccups" in dating and relationships and thought it would be best to turn my pain in a creative body of work. In 2018, I made the big decision to just put it out there and now I'm three books in.
How would you describe your books to first time readers?
the Heartbreak Diaries Book Series, are various stories about women dealing with love, lust, pain, and bouncing back. These stories are unique because it tells them from the heart perspective
Who do you feel is most likely to connect with the topics you write about?
Pretty much anyone who has gone through a heartbreak. I've gotten great feedback from both men and women from all walks of life.
What unexpected or surprising thing did you learn during the process of writing and publishing?
Oh so many. In writing, I had to learn to paint the picture for the reader. Many times I knew what I wanted to say and how it would convey in my head, but getting that on paper was a small challenge for me. With Publishing, in my first book, I had to learn about formatting, the business aspect, various platforms to sell my book. It was a learning process, especially as a self-published author.
If you could, what advice would you give to your past self before embarking on this journey?
Don't be afraid to show the world your work. Just put it out there, and hope for the best.
How many people would you ideally like to reach with your books?
Of course as an author you want to reach as many as possible to make a decent living. However, I want my creative work to reach those who are open, love a good story, and can learn from my book series.
What has been the biggest challenge and frustration during the process to date?
The editing process. I like to be a perfectionist when it comes to delivering good work. Also, I like to stick to my deadlines, so combining the two can be a bit nerve-wracking at times.
What's your biggest strengths when it comes to book a) writing, b) publishing and c) marketing?
Writing: I have a vivid imagination and I like to mix that with personal stories. In my books, I'm real with myself. The main characters have flaws etc. and I like to convey that.
Publishing: I think by now I have a good grasp on what it needed for publishing. Though I'm still learning as I go, I feel more comfortable with the process of preparing my books for publishing and the business aspect.
Marketing: Marketing can be tricky. In this ever-evolving industry of digital and social media trends, I'm able to catch on quickly to what works, and what doesn't.
What's your biggest weakness when it comes to book a) writing, b) publishing and c) marketing?
Writing: I don't know when to stop re-writing/editing. This is the main reason why I don't like to read my books after they are published. I'd re-release a new copy every time lol
Publishing: Mostly time management.
Marketing: I'm not big on posting, so I have to set alarms for when to post and take out time to interact with followers for social media marketing.
When do you think you will write your next book?
Working on the final edits of my next book release for 2020, The Perfect Sin.
Are you self published or did you use a hybrid publisher, or a traditional publisher?
Self-published author
FEATURED AUTHORS
Interview with Darrell K. Jackson
Author of  The Sign of Christ If you currently reside somewhere besides where you read more
Keep Reading »