Interview with Christopher Guarino
Author of Weathering the Tempest: A Collection of Poems About Life, Love and Letting Go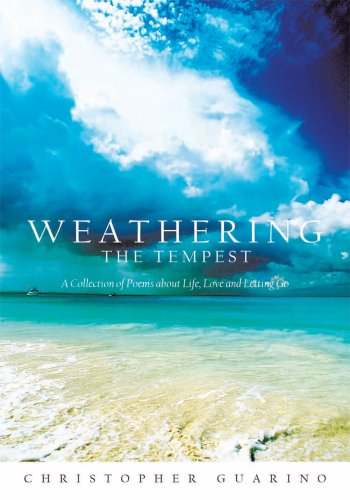 Where are you from originally and where do you reside now?
I grew up in Boxford, Massachusetts and now I live in Amesbury, Massachusetts.
If you currently reside somewhere besides where you were born, what's the story that lead from there to here?
I now only live 20 minutes from where I grew up, but I decided on Amesbury because it had a nice downtown area, was close to family and my wife and I fell in love with the house we found there. Ultimately, we wanted to stay on the North Shore of Massachusetts since we love the area.
What made you decide to write and publish your first book?
When I was in my mid-twenties, I had just broken up with my fiancé, at the time, and I went back to live at home with my mom, who was in the process of going through a divorce with my father. I had some time on my hands and I thought about how great it would be to refine all the poems I had written since I was 17 years old and put them into a book. I then ended up writing a lot more poems, constructing a narrative and putting them all into a book of poetry.
How would you describe your books to first time readers?
My poetry book is a compilation of poems about life, love and letting go. The first section of the book are poems about finding love and falling in love. Then, there is a section on being in love and trying to maintain that relationship. The book then delves into losing love and the heartbreak and depression that goes along with that. The last sections of the book are about moving past that loss of love and coming to some life realizations. Ultimately, the book is about experiencing infatuation, lust, love, heartbreak, confusion, wonder and hope.
Who do you feel is most likely to connect with the topics you write about?
Anyone who has been in love or suffered heartbreak or thought about their own existence. I think this book of poetry would connect with everyone from a teenager to someone who is 100 years old.
What unexpected or surprising thing did you learn during the process of writing and publishing?
I learned that writing a book is hard. It is difficult to get it to be "perfect" in your eyes when writing it. I had so many revisions of some of the poems in my book that it was hard to keep track of them.
If you could, what advice would you give to your past self before embarking on this journey?
I would tell my past self to spend more time marketing my book and creating awareness that it exists.
How many people would you ideally like to reach with your books?
I would like to reach as many people as I possibly can because I truly think that anyone old enough to be infatuated or in love with someone else can relate to and appreciate this book.
What has been the biggest challenge and frustration during the process to date?
It has been marketing the book so that people see it and can decide if it's something they want to read. I do believe that most people can relate to the poems in this book and a lot of people would read it if they simply knew it was out there.
What's your biggest strengths when it comes to book a) writing, b) publishing and c) marketing?
My biggest strength is writing. In this book I was able to write a number of different types and styles of poems. I feel that the diversification of the poetry in the book allows the book to stay fresh and not seem repetitive or stale to the reader.
What's your biggest weakness when it comes to book a) writing, b) publishing and c) marketing?
My weakness has been marketing and generating interest with the public for my book. It has been hard to be successful with marketing a book of poetry.
When do you think you will write your next book?
I have written a number of new poems since my first book was released, but I am unsure when I will have enough to start the compilation and organization of making them into a book.
Are you self published or did you use a hybrid publisher, or a traditional publisher?
I self-published the book through a company called AuthorHouse. So, technically, it was professionally self-published.
FEATURED AUTHORS
Interview with Satwinder Vig
One way to follow this journey is to learn kundalini yoga so that you read more
Keep Reading »