Interview with Daniel C. McWhorter
Author of Restoration: The Gaia Origin Book One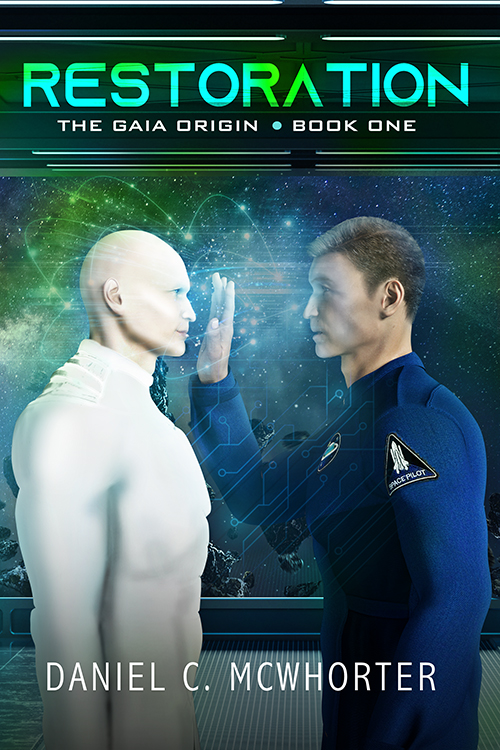 Where are you from originally and where do you reside now?
I was born near Augusta, Georgia but spent all of my youth living in Arizona. I currently live in the beautiful Blue Ridge Mountains of North Georgia. When we moved back seven years ago I joked that "I am a long lost southern boy who finally made his way home".
If you currently reside somewhere besides where you were born, what's the story that lead from there to here?
My dad was stationed on the Fort Gordon army base, which is why I was born in Georgia. My family is originally from Tucson, Arizona and my mom took me there when my father went off to Vietnam. When he came home we moved to Prescott, AZ and a few years after that we moved to Phoenix, AZ because my dad didn't like the cold winters in Prescott.
What made you decide to write and publish your first book?
I've wanted to write for a long time but life took me in a different direction. Two years ago I found myself at another inflection point in life (i.e. one of those rare times where you get to choose a path) and I decided that it was time to write. Thankfully, I have a loving and very supportive wife who does her part to make this path work for us both.
How would you describe your books to first time readers?
I've only published one book so far, but it's the first of a three-book series. Book 2 will come out in the spring (Good Lord willing). I love sci-fi and I've tried to incorporate what I consider to be some of the best themes of the sci-fi genre into my work, namely: futuristic technologies that are believable, man's insatiable desire to explore, and our tendency to do things because we can with little consideration as to if we should. The other thing I work really hard at is creating relatable characters engaged in a compelling, "page-turner" story.
Who do you feel is most likely to connect with the topics you write about?
The current series is all about cloning, artificial intelligence, and interplanetary colonization. All the action happens in a dystopic future where humans have brought themselves to the edge of extinction. So, given that, I'd say that anyone who likes imagining the future would enjoy my work. I've had some readers describe my book as "hard sci-fi" but I try to focus more on the moral and ethical questions associated with the use of technology rather than on the science behind it.
What unexpected or surprising thing did you learn during the process of writing and publishing?
Writing the first draft is easy. Everything else gets progressively more difficult. Getting recognized is the hardest part of all. I describe my book to people as "a grain of rice at the bottom of an Olympic-size swimming pool filled with sand", and my challenge is to help people find that grain of rice.
If you could, what advice would you give to your past self before embarking on this journey?
Find a great editor and partner with him/her early in the process. Good editors are not cheap, but editing is definitely a case of "you get what you pay for". I made the mistake of hiring an editor who, even though she had lots of good reviews, didn't really deliver what I had hoped for. It was then that I learned the difference between developmental edits, line edits, and proofreads!
How many people would you ideally like to reach with your books?
I don't have a fixed number. I want people to read it, enjoy it, and tell their friends about it. My hope is that over time I will develop a large enough audience that I will be able to continue writing for a living. Everything I've read says that you have to write at least 4-5 books before people will take you seriously as an author, so I have a ways to go yet.
What has been the biggest challenge and frustration during the process to date?
Marketing and letting people know that I'm here. I'm reasonably happy with the number of people who have read my book and the feedback has been really positive (averaging 4+ stars on Amazon and Goodreads), but I'd really like to see some more indicators that people are recommending me to their friends. Right now, I pretty much only sell books when I run ads or promos. I get a burst of sales over the course of the event that quickly tapers off at the end. I believe that strong word of mouth should result in more consistent sales independent of ads and promos.
What's your biggest strengths when it comes to book a) writing, b) publishing and c) marketing?
Writing, of course, although I am getting much better at the others. I feel like I understand publishing now and am getting smarter about marketing every day.
What's your biggest weakness when it comes to book a) writing, b) publishing and c) marketing?
Marketing. It's hard and the only way to learn is trial and error, which means lots of time and money spent on things that don't work just to find the ones that do.
When do you think you will write your next book?
I've been working on it since April and it's due out March/April 2020. The working title is "Revival" and it is book two of the Gaia Origin Series. I can't wait to get it out there and I'm eager to hear what my fans think!
Are you self published or did you use a hybrid publisher, or a traditional publisher?
Hybrid. I created my own imprint (Underhill Press, LLC) for publication rights purposes and work with Bublish on the distribution side. They also do my cover design and editing. I wish I had known about them from the start! Oh well, better late than never I guess.
FEATURED AUTHORS
Interview with Darrell K. Jackson
Author of  The Sign of Christ If you currently reside somewhere besides where you read more
Keep Reading »