Interview with David Goldwasser
Author of Room 203C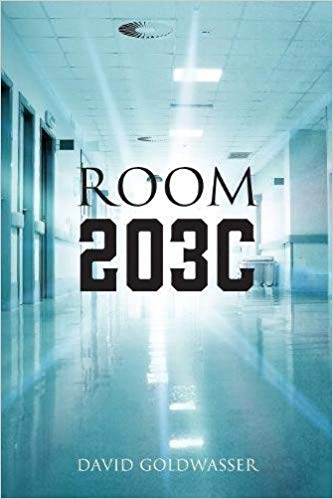 Where are you from originally and where do you reside now?
Bronx, NY and now in Haverstraw, NY.
If you currently reside somewhere besides where you were born, what's the story that lead from there to here?
Wow, well, school years to marriage …marriage to a child… moving out of the city to Rockland County, NY to give our daughter better academic and sports opportunities…death of both wife and child…meeting another person who had been through loss and grief…becoming life partners in Haverstraw…
What made you decide to write and publish your first book?
Well, I had retired from my life as a teacher and a nurse and I decided to keep a promise to my daughter. She had told me that when she finished college at Duke University that we would write a fantasy novel together. Sadly, she died before that could happen…so, we wrote it together but in a different way…her ideas, her words, who she was ..permeate the story I wrote…one book became a trilogy. I guess she had a lot to say…
How would you describe your books to first time readers?
My first three books make up a trilogy filled with magic, wonderful characters and a constant battle between good and evil…kind of a mash up of Harry Potter and Lord of The Rings…my most recent novel, Room 203C tells a story of a boy with polio and a girl with cancer. The converging narratives of these two people remind us how differences can be united by our humanity and our ability to share hope and strength in the face of great challenges. From the 1930's through today, this book will take on journey that is alternately heartbreaking and inspiring.
Who do you feel is most likely to connect with the topics you write about?
Fantasy reader will enjoy my trilogy…anyone with a heart will find something to inspire them in Room 203C..
What unexpected or surprising thing did you learn during the process of writing and publishing?
My characters like to talk to me when I write…I think they want to make sure I get it right…publishing, well getting a break in this business is very hard…I just self published after trying to find for quite some time to get a foot in the door of a publisher…I wanted my books to come our before my teeth did…
If you could, what advice would you give to past self yourself before embarking on this journey?
Write with your heart…don't try to write what you think will please everyone.
How many people would you ideally like to reach with your books?
Enough to raise a million dollars for pediatric cancer research.
What has been the biggest challenge and frustration during the process to date?
Finding a publisher or a big name to publicize my books.
What's your biggest strengths when it comes to book a) writing, b) publishing and c) marketing?
I write terrific characters with strong story lines…I haven't found a publisher….I speak well, so book clubs and the like invite me to talk.
What's your biggest weakness when it comes to book a) writing, b) publishing and c) marketing?
I don't have the time to go chasing publicity.
When do you think you will you write your next book?
When my grandchildren let me…
Are you self published or did you use a hybrid publisher, or a traditional publisher?
Self published.
FEATURED AUTHORS
Interview with Darrell K. Jackson
Author of  The Sign of Christ If you currently reside somewhere besides where you read more
Keep Reading »