Interview with Elaine L Orr
Author of Writing When Time is Scarce and Getting the Work Published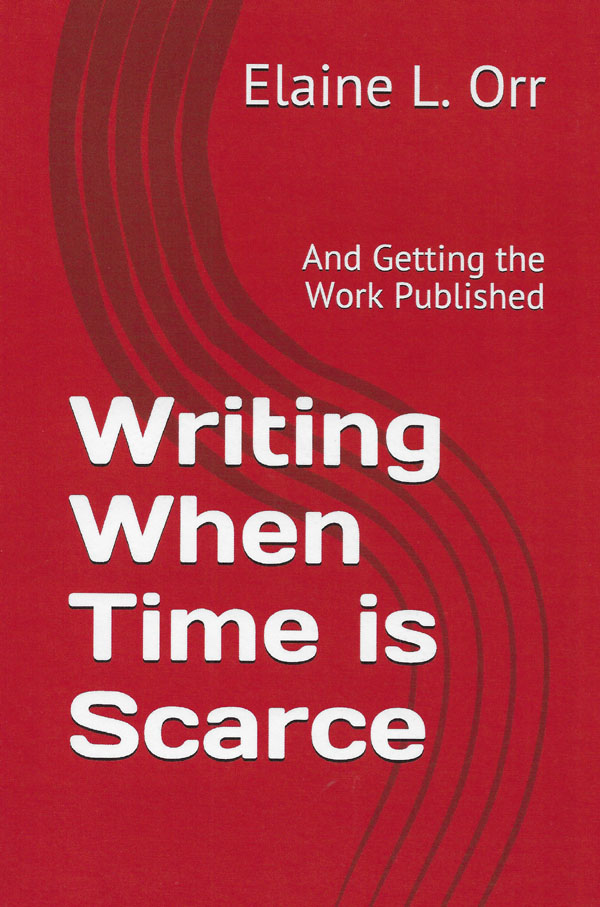 Where are you from originally and where do you reside now?
I was born in Washington, DC and spent most of my life in Maryland until 1994. I now live in Springfield, Illinois.
If you currently reside somewhere besides where you were born, what's the story that lead from there to here?
By the mid-1990s, I had been writing fiction and some nonfiction for a number of years and hoped to get some of it in shape to publish. I thought it would be good to live in a quieter, less expensive place so I could focus more on writing. My brother and I moved to Iowa, and I lived there for a number of years. I've since married and moved to Indiana and then Illinois with my husband. I jokingly say I'm doing a tour of the "I" states, though I've no plans to move to Idaho.
What made you decide to write and publish your first book?
I've always written stories and for a long time made my living doing analytical work and writing nonfiction. My dad wrote stories and all my family members and my husband are big readers. Putting my work before readers simply felt natural.
How would you describe your books to first time readers?
I do four kinds of writing. First are light mysteries, some of which are cozy mysteries (amateur sleuth, murder takes place off screen) and some are what I call police procedurals with a cozy feel.
The second type would be what I think of as reflective fiction, usually in the form of novellas or plays. In fact, my favorite book is a novella called "Falling Into Place."
Third, since I'm hard-wired to write, I publish books and blog pieces on writing and publishing. "Writing When Time is Scarce and Getting the Work Published" is one of the latter.
Finally, I write local and family history books and articles. I love relating the history of families to the history of the world around them.
Who do you feel is most likely to connect with the topics you write about?
People who read for enjoyment. I write largely so people can solve puzzles with the sleuths in my books. It's not my intent to create stories that astound or titillate readers. I enjoy reading some fantasy, but wouldn't know how to create a world. Creating characters is hard enough!
What unexpected or surprising thing did you learn during the process of writing and publishing?
I learned I like to explore varied topics, and writing fiction lets you do that. I also learned that nothing gets done by thinking or talking about it. You have to put your buns in a chair and work for many hours a day. If you don't have that kind of time, get yourself organized so you can write in small chunks.
If you could, what advice would you give to your past self before embarking on this journey?
Start earlier. I enjoyed my previous work incarnations and kept putting off full-time writing. I don't regret one thing I did, but I wished I'd practiced the "write in chunks" advice myself. Even if I can't write all the time now, I can capture two hours and get a lot done.
How many people would you ideally like to reach with your books?
Though it's tempting to say "everyone," it's important to know the audience at whom each book is aimed. I would like to think my mysteries would appeal to those who like mysteries without a lot of gore and detailed forensics. I believe my books and articles on publishing could be helpful especially to those early in their writing careers.
What has been the biggest challenge and frustration during the process to date?
A personal frustration has been that I have moved several times since I began publishing the mysteries. That makes it hard to develop personal relationships with local readers and bookstores. In terms of generally reaching readers, it's hard to get books in bookstores when you self-publish or work with small publishers. (I do both.) I understand that. It's actually easier to be known in Barnes and Noble stores now that BN has it's own paperback publishing operation. If an author publishes a BN edition, it's easy for staff to order that book. Once ordered the store may order it again.
What's your biggest strengths when it comes to book a) writing, b) publishing and c) marketing?
I wrote nonfiction to a deadline, so I can do that for fiction. Writing fast has advantages because it gets your first draft done. As long as you're willing do do some serious editing, writing quickly is a good thing.
In terms of publishing, I learned the ropes for self-publishing in 2010-11, just as electronic publishing was becoming more feasible. I learned a great deal on my own and by conferring with other authors. One thing I learned was that you didn't need to know everything I researched. That's why I wrote "Writing When Time is Scarce and Getting the Work Published" — I hope to help other authors use their time as efficiently as possible.
Marketing is tough. I used to try a lot of avenues. I've settled into some consistent patterns, though I'm willing to try new things. I do find it easy to talk to groups and develop written marketing materials.
What's your biggest weakness when it comes to book a) writing, b) publishing and c) marketing?
I recently did a blog post (elaineorr.blogspot.com) in which I noted I don't think I make my villains 'bad' enough. I focus on the sleuth or other antagonists. I've promised myself to begin doing two story lines, one from the perspective of the sleuth, the other from the bad guy. I may not use all of the latter in the story, but I will better understand the villain's motives and methods.
In terms of publishing, I used to focus too much on details. I've learned to streamline my self-publishing steps. I need to work harder so I publish more often! I guess part of that is writing.
Marketing — other than meeting readers — is a pain. It takes away from writing and it's hard to know what's effective. I absolutely need to get better at using visual media such as You Tube and Instagram. Lots of people use these.I also need to be better at developing graphic marketing materials. I can't pay someone five thousand a year to do that, and it's possible to do it well and quickly. I'm getting a bit better. Another important component of successful marketing is getting reviews of your books. I've had many good ones, but the more books that are published (and since digital publishing there are more every year) it's sometimes a challenge. There are so many good books out there. I need to focus on providing more review copies and following up on that. I tend to finish a book and start on a new onoe.
In all areas, you learn a lot from other authors.
When do you think you will write your next book?
I ALWAYS write. I'm finishing a novella for the Jolie Gentil series ("The Twain Does Meet") which will be out December 20, 2019. I'm about to start another book in the Logland series, the first where I will implement my "dual perspective" resolution.
Are you self published or did you use a hybrid publisher, or a traditional publisher?
I've self-published and worked with a small publisher, Annie Acorn, LLC. It's a supportive firm. However, I'm also trying to find the time to develop a new series and approach one of the larger, traditional publishers. It's easier to get into bookstores with traditional publishers, and many of the cozy mystery publishers kind of create a network among their authors. I would like that.
FEATURED AUTHORS
Interview with Darrell K. Jackson
Author of  The Sign of Christ If you currently reside somewhere besides where you read more
Keep Reading »