Interview with Elizabeth Splaine
Author of Blind Order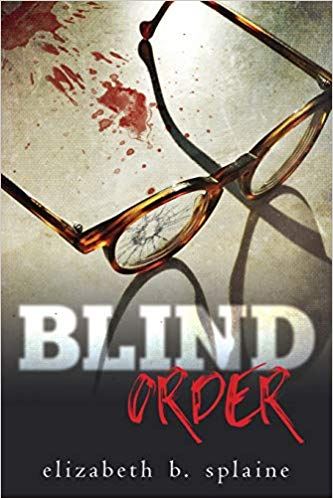 Where are you from originally and where do you reside now?
I grew up in Delaware and now live in Rhode Island.
If you currently reside somewhere besides where you were born, what's the story that lead from there to here?
I attended Vassar College (NY) and Duke University (NC) for undergrad and UNC Chapel Hill for my Masters in Healthcare Administration. After that my husband and I (and our growing family) lived in and around Boston for ten years, then moved to Hershey, PA where we lived for nine years. Following that, we moved to Grand Rapids, MI for five years, Northville, MI for three years, and back to the East coast to settle in Rhode Island in 2018. During all of those years I worked in healthcare administration, then sang professionally in the opera world and starting teaching voice, which I still do, prior to writing.
What made you decide to write and publish your first book?
While we lived in Grand Rapids, MI I was brushing my teeth with my eyes closed and I dropped the toothpaste cap. Without opening my eyes I leaned down to find the cap and after several minutes of searching, couldn't find it. As I opened my eyes, grabbed the cap and stood, I thought, "It would suck to be blind and drop the toothpaste cap," and the name Julian Stryker popped in my head. Other character details arrived shortly thereafter (Julian is a blind child psychologist who practices in Boston), so I went downstairs and started writing…and haven't stopped. That was my first book, which hasn't been published. But once the protagonist of this series was born, another book idea arrived when I was driving my son to camp and a sociopathic female physician popped into my head. My son and I wanted to create an ironic name for such a twisted character, so we named her Linda (pretty in Spanish) Sterling (as in silver.) That was Blind Order. After Blind Order was published, another character came to me, a little girl, and she wouldn't go away until her story had been told. That's Blind Knowledge.
I sent out queries for Blind Order and received about 50 rejections, but among those 50 were several emails indicating that my writing was strong and my characters were memorable. Then I spoke with a traditionally published author and he urged me to self-publish. So, after much consideration, I did and had a great experience!
How would you describe your books to first time readers?
Amazon reviews describe my books as page-turners. I like to think that they are, but that they also contain humor and humanity. In terms of genre, my books are:
Blind Order is a psychological thriller.
Blind Knowledge is a mystery/thriller.
My upcoming book, Devil's Grace (to be released in October 2020 through a traditional publisher, Greenwriters Press) is a metaphysical mystery.
And the book I'm currently writing, Swan Song of a Jewish Diva, is historical fiction.
Who do you feel is most likely to connect with the topics you write about?
I realized recently that all of my stories deal in some capacity with the loss of family. That was an interesting (and somewhat disturbing) epiphany. Readers who connect with my stories are empathetic. They like to relate to the characters and ask, What would I do in that situation? Oh, and anyone who likes a thrilling page-turner!
What unexpected or surprising thing did you learn during the process of writing and publishing?
I have learned that the story needs to tell itself. I have tried to bend the story to my will and end up writing in circles until I, inevitably, come to the conclusion that I need to write the story as it flows through me, and then tweak it later.
If you could, what advice would you give to your past self before embarking on this journey?
Accept all criticism and use it to your advantage.
Let the story tell itself.
Listen to others' advice but don't let it stop you or interfere with your gut instinct.
How many people would you ideally like to reach with your books?
My goal is to be on the NYT Best Seller list and have at least one of my books made into a movie. So, to answer the question, I'd like to reach millions.
What has been the biggest challenge and frustration during the process to date?
Like all newer writers, getting my name and my books to the world is always a challenge. I have come to understand how critical marketing is and how to go about marketing my books. Self-publishing is now a huge business and it's challenging to understand which companies are strong and which companies will simply treat you as a number (literally in one case.) All of them want your money and promise the world, but which actually deliver a strong end product?
Another frustrating factor has been not being taken seriously as a self-published author. Now that I have a publishing contract, I see the doors to indie bookstores and B & N, for example, are opening for me. It's frustrating that self-published authors have to seek to legitimize their writing in order to be promoted.
What's your biggest strengths when it comes to book a) writing, b) publishing and c) marketing?
My biggest strength in writing is discipline. Creating a writing schedule and sticking to it. And if I don't feel like actually creating and writing, then the time is spent marketing or researching. There's always some writing-related work that can be completed.
My biggest strength in publishing is having been through it several times now with several different publishers and applying what I've learned to the next step in my writing journey.
My biggest strength in marketing is persistance. I know I have strong products and they will get out there!
What's your biggest weakness when it comes to book a) writing, b) publishing and c) marketing?
My biggest area for improvement in writing is description. Too much description bores me as a reader, so I tend to blow through it as I'm writing. I always go back and add more after the story has told itself.
My biggest area for improvement in publishing is continuing to understand the process.
My biggest area for improvement in marketing is finding and marketing to the right groups/people.
When do you think you will write your next book?
I'm writing my next book now.
Blind Order was released in 2017.
Blind Knowledge was released in 2019.
Devil's Grace will be released in 2020.
Swan Song of a Jewish Diva will be released in 2021 -if I have my way ; )
Are you self published or did you use a hybrid publisher, or a traditional publisher?
The Blind series is self-published and Devil's Grace is through Greenwriters Press, a traditional publisher. I won a writing competition (that involved presenting a marketing plan, doing a public dramatic reading, presenting the author behind the book and presenting my cover/cover copy) called When Words Count. The prize was a publishing contract. Here's a link to the competition site.

FEATURED AUTHORS
Interview with Dr. Niru Prasad
Author of A Guide to Navigating Childhood Development and Wellbeing Where are you read more
Keep Reading »