Interview with Helen Ann Licht
Author of The Many Colored Bible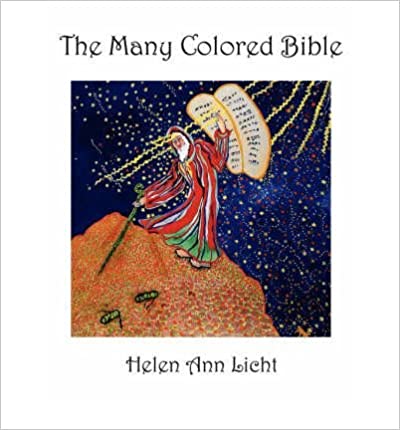 Where are you from originally and where do you reside now?
Weiser, Idaho. now residing in Lafayette, California
If you currently reside somewhere besides where you were born, what's the story that lead from there to here?
I was born in Milwaukee, Wisconsin. I lived in Seattle until I was eight years old.I grew up in Weiser, Idaho. I went to Stanford. I lived in San Francisco and now I live in Lafayette, California
What made you decide to write and publish your first book?
My son-in-law suggested I publish a book on my paintings with my poetry.
How would you describe your books to first time readers?
My book is The Many Colored Bible. It is available on Amazon or through Authorhouse. It was first published in 2007
Who do you feel is most likely to connect with the topics you write about?
My upcoming book is an autobiography about my Alaskan ancestors, my life, my values and my travels with an emphasis on stories and adventures that demonstrate my values..
What unexpected or surprising thing did you learn during the process of writing and publishing?
I learned how popular my book became with my friends.
If you could, what advice would you give to your past self before embarking on this journey?
I would have definitely attended the White House dinner.
How many people would you ideally like to reach with your books?
I have no idea.
What has been the biggest challenge and frustration during the process to date?
Writing and rewriting and the computer. Worrying if I was telling too many secrets
Leaving out so much
What's your biggest strengths when it comes to book a) writing, b) publishing and c) marketing?
I love writing. I didn't want to seek a publisher and be rejected. I am an artist and I didn't like promoting my work.
What's your biggest weakness when it comes to book a) writing, b) publishing and c) marketing?
Insecurity
When do you think you will write your next book?
I don't know.
Are you self published or did you use a hybrid publisher, or a traditional publisher?
Self Published
FEATURED AUTHORS
Interview with Darrell K. Jackson
Author of  The Sign of Christ If you currently reside somewhere besides where you read more
Keep Reading »