Interview with Jan mccanless
Author of LATEST IS A COMPILATION OF MY HUMOR COLUMNS -BIZARRE BRAIN DRIPPINGS OFA NOTED SAGITTARIAN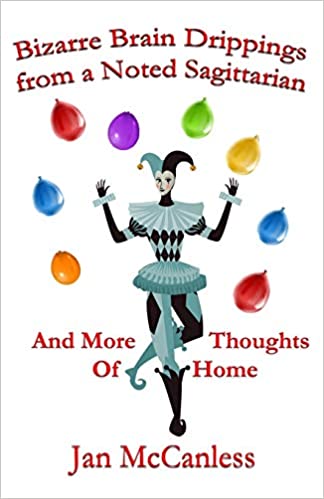 Where are you from originally and where do you reside now?
originally Atlanta, but, I came to NC to attend school, met my husband, and the rest, as they say is history. We live in a small, rural section of the state, that was wonderful for raising children in. We're still here.
What made you decide to write and publish your first book?
had a STORY i THOUGHT NEEDED TO BE TOLD. THERE WAS A HUGE GAP IN FAMILY FRIENDLY, CHARMING MURDER MYSTERIES,. AND I HAD THE ANSWER. MY MURDER MYSTERIES ARE A CROSS BETWEEN MURDER SHE WROTE, AND MAYBERRY RFD, AND HAVE BEEN HUGHLY POPULAR. EVERY ONE, PLUS MY 3 COMPILATIONS OF HUMOR COLUMNS, HAVE BEEN ON THE BEST SELLER LIST.
How would you describe your books to first time readers?
FAMILY FRIENDLY, EXCITING, FULL OF QUIRKY, LOVABLE CHARACTERS , ALL RESIDING IN THIS LITTLE COASTAL NC TOWN, WHERE MY STORIES TAKE PLACE. ALWAYS WITH A TWIST, AND FOREVER GOOD.
Who do you feel is most likely to connect with the topics you write about?
READERS BETWEEN 30 AND 60,ALTHOUGH I HAVE MANY FANS YOUNGER THAN THAT, AND, OLDER THAN THAT. MY EUROPEAN FRIENDS LOVE THEM
What unexpected or surprising thing did you learn during the process of writing and publishing?
IT AIN'T EASY !!!!! YOU HAVE TO BE SO CAREFUL TO BE ACCURATE, EVEN WITH FICTION, AND YOU HAVE TO MOVE THE ACTION ALONG, DON'T GET STUCK ON MINUTIAE. KNOW YOUR SUBJECT, KNOW YOUR AUDIENCE, AND WRITE ACCORDINGLY.
If you could, what advice would you give to your past self before embarking on this journey?
DO IT SOONER !!
How many people would you ideally like to reach with your books?
EVERY READER IN THE WORLD WHO ENJOYS A GOOD STORY WITH WONDERFUL CHARACTERS
What has been the biggest challenge and frustration during the process to date?
SOMETIMES IT'S DIFFICULT TO BEGIN A BOOK, EVEN WHEN YOU KNOW PRETTY MUCH WHAT THE PLOT WILL BE. WHEN I GET TO WRITING, AND I'M GOING REALLY WELL, INTERRUPTIONS DRIVE ME NUTS !!!
What's your biggest strengths when it comes to book a) writing, b) publishing and c) marketing?
DEFINITELY WRITING. MY PUBLISHER DOES THE REST, ALTHOUGH I AM PRETTY GOOD AT MARKETING MY PRODUCT MYSELF
What's your biggest weakness when it comes to book a) writing, b) publishing and c) marketing?
PUBLISHING IS HARD, I LOOKED FOR YEARS AND YEARS, ENDURED REJECT AFTER REJECT, BEFORE I FOUND A PUBLISHER WHO BELIEVED IN ME. AFTER 20 YEARS, I STILL GET REJECTS SOMETIMES ON MY MAGAZINE ARTICLES, AND IT IS STILL DIFFICULT TO DEAL WITH.
When do you think you will write your next book?
WRITING ONE NOW, MY 16TH
Are you self published or did you use a hybrid publisher, or a traditional publisher?
HYBRID AND TRADITIONAL
FEATURED AUTHORS
Interview with June Bratcher
It is going to be tough, especially in a business dominated by men. But read more
Keep Reading »