Interview with JD Adler
Author of The Quantum Vibrator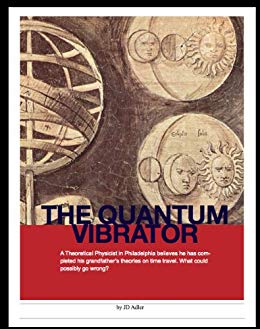 Where are you from originally and where do you reside now?
Born: Easton, PA
Currently: Key West, FL
If you currently reside somewhere besides where you were born, what's the story that lead from there to here?
I spent most of my 20's and 30's traveling the US like a vagabond, emulating my heroes of fiction and reality. I then moved to Philadelphia to pursue a MS in Publication Management. When I graduated, the recession was in full swing. So I searched the nation for a job. I found a position in Key West working as a journalist/marketing director for a local online paper. That job doesn't exist anymore, but Key West has become my home.
What made you decide to write and publish your first book?
My first novel, "Legacy," was about a post environmental apocalypse world. It just flowed out of me like breathing. It was a platform for me to discuss my thoughts on the topic without preaching, by hiding the message behind an action adventure story. It wasn't so much a decision to write as I had no choice as it sprung forth. When it was complete, it was perfect so I self-published it right away.
How would you describe your books to first time readers?
Silly text, with serious subtext.
Who do you feel is most likely to connect with the topics you write about?
Anyone who enjoys philosophy, politics, or people watching.
What unexpected or surprising thing did you learn during the process of writing and publishing?
I often learn what is happening in the stories as I write them.
If you could, what advice would you give to your past self before embarking on this journey?
Forget all the practical stuff people tell you is important and focus on your art.
How many people would you ideally like to reach with your books?
All of them.
What has been the biggest challenge and frustration during the process to date?
As with any product, quality of the item is less important than marketing.
What's your biggest strengths when it comes to book a) writing, b) publishing and c) marketing?
A) building multiple story lines that come together in the end, B) & C) design skills.
What's your biggest weakness when it comes to book a) writing, b) publishing and c) marketing?
For all three it is the same… procrastination.
When do you think you will write your next book?
I received an award (Anne McKee Grant) to publish a collection of poetry due out in April 2020.
Are you self published or did you use a hybrid publisher, or a traditional publisher?
I am a hybrid publisher (Elegant Publications), so I self-publish through my small company.
FEATURED AUTHORS
Interview with Darrell K. Jackson
Author of  The Sign of Christ If you currently reside somewhere besides where you read more
Keep Reading »