Interview with Jenny Hartin
Author of 101 Things to Do with a Bundt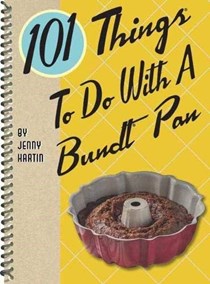 Where are you from originally and where do you reside now?
I was born and raised near St. Louis Missouri in a little steel mill town in Illinois. I've lived in New York for fifteen years and now reside in Colorado. I would go back to back to New York in a heartbeat.
If you currently reside somewhere besides where you were born, what's the story that lead from there to here?
I left Illinois to live in New York City to be with my now current husband. I love everything about New York, the hustle, bustle, and brilliance of that city. We moved seven years ago to Colorado for a change of lifestyle for my husband. The die-hard born and raised New Yorker, my husband, doesn't want to leave Colorado ever. The small town girl would take New York over any town.
What made you decide to write and publish your first book?
I am the Director of Publicity for Eat Your Books, a website that indexes cookbooks so our members can utilize their cookbook collection. I had written about a Bundt cookbook and posted several cake creations on Instagram when the publisher for Gibbs Smith reached out to me about their 101 series. I had initially contacted them about doing a book on Greek desserts and/or miniature desserts as I love all things pastry.
How would you describe your books to first time readers?
The book is filled with sweet and savory recipes utilizing your Bundt pan. Many are cakes and desserts with dozens of casserole type dishes thrown in.
Who do you feel is most likely to connect with the topics you write about?
Cooks and bakers, as well as cookbook lovers. I write about those topics continually on the Eat Your Books' blog. Right now I'm doing a weekly recap of The Great British Bake Off show https://www.eatyourbooks.com/blog/2019/09/21/great-british-bake-off-baking-show-recap-dairy-week-4 and having a blast with that. My Bundt related posts are doing well, too. https://www.eatyourbooks.com/blog/2019/09/16/converting-cake-recipes-for-a-bundt-pan
What unexpected or surprising thing did you learn during the process of writing and publishing?
Writing a cookbook is hard work, not very lucrative but the joy from holding your published cookbook in your hand is well worth the battering.
If you could, what advice would you give to past self yourself before embarking on this journey?
I would be more prepared and seek more help from my readers on testing and recipes.
How many people would you ideally like to reach with your books?
As many as possible.
What has been the biggest challenge and frustration during the process to date?
Taking praise from my readers.
What's your biggest strengths when it comes to book a) writing, b) publishing and c) marketing?
I try to be concise and recipes are well tested.
What's your biggest weakness when it comes to book a) writing, b) publishing and c) marketing?
Procrastination.
When do you think you will you write your next book?
I am working on a proposal for another title.
Are you self published or did you use a hybrid publisher, or a traditional publisher?
Traditional publisher.
FEATURED AUTHORS
Interview with Darrell K. Jackson
Author of  The Sign of Christ If you currently reside somewhere besides where you read more
Keep Reading »