Interview with Karen Janowsky
Author of The Persistence of Memory: Deja Vu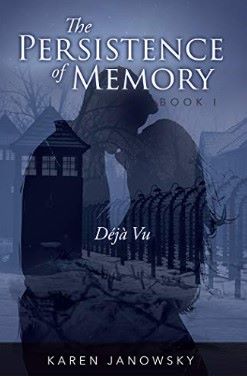 Where are you from originally and where do you reside now?
I was born in New York City. I now live in Maryland.
If you currently reside somewhere besides where you were born, what's the story that lead from there to here?
I met my husband while I was studying at Florida State University. We moved to Maryland after he finished his degree and was offered a job at the College of Southern Maryland.
What made you decide to write and publish your first book?
I wanted to read a superhero story geared toward adults rather than children or teenagers. There really aren't many out there, and certainly none with romance as a major aspect of the plot. So, I wrote it myself!
How would you describe your books to first time readers?
It's a mix of the superhero, romance, and science fiction. The story spans across all three books, and the romance between Daniel and Nina is a slow burn that eventually turns extremely hot. Beyond that, the books have an Avengers-type feel to them in terms of the characters as a group, although none of the characters are meant to be replicas of the Avengers heroes (Daniel runs a close similarity at first, but quickly diverges).
Who do you feel is most likely to connect with the topics you write about?
People who like enjoy experiments in mixing genres, romance and action, with a plot that takes both the events and the characters seriously. The books, according to the Manhattan Book Review, balance heat and humor quite well, even with the adult themes.
What unexpected or surprising thing did you learn during the process of writing and publishing?
I was surprised (although I shouldn't have been) at how divergent beta readers and novel readers have been in their comments about the books. People come to genre books with certain expectations about what will happen and what the characters will be like. When narratives stray far from the tropes, readers either embrace it or they don't.
If you could, what advice would you give to past self yourself before embarking on this journey?
Honestly, I'd say to be patient, and be careful I invest my resources. Beta readers, proofreaders, and reviewing companies vary in price and quality, and one doesn't necessarily reflect the other. Advertising and soliciting reviews is very time consuming and for the former, costly. I'd tell myself to research my options and take my time. There's no rush in any part of the writing, publishing, or marketing.
How many people would you ideally like to reach with your books?
As many as possible if they're fans of the genres or looking for the same kinds of stories and characters I was. My biggest goal is for lots of people to read and enjoy the story. I have no delusions of having Harper Collins beside my name on the spine or back. The industry is very crowded and competitive. I write because I love to do so; I want readers who get invested in the lives of the people I have created and love them as much as I do.
What has been the biggest challenge and frustration during the process to date?
There have been several. One of the biggest was my fault; I blindly trusted my proofreaders because they came highly recommended. They didn't do a very good job, and my books have some embarrassing typos in them. There isn't a huge number, and every book has them, but I was disappointed anyway.
What's your biggest strengths when it comes to book a) writing, b) publishing and c) marketing?
A) Discipline, discipline, discipline. Writers need to know their craft no matter how talented they are, and they have to write every day, even if they don't feel like it. It's like exercise. You have to keep doing it. I'm' a good writer, and I've been studying and publishing my work in various places for many years. But it takes work and perseverance to have a finished piece you're proud to have your name on.
B)Publishing has been a bit of a learning curve for me. I'm still trying to figure that one out.
C)Sort of like A, perseverance. It can be frustrating when you spend so much money and time on ads and book fair events for little to no payoff. But I keep doing it. I keep meeting more and more writers in the same boat as me, I keep making connections, I keep putting my name and product "out there."
What's your biggest weakness when it comes to book a) writing, b) publishing and c) marketing?
I think all of the answers for my strengths might apply! Seriously though:
A) Confidence and somewhat thin skin. I don't have control of how someone reacts to my book, and am disappointed when people truly dislike it for whatever reasons, even though they're in the minority so far. When you feel beaten up by someone whose opinion you respect, it's hard to feel good about your work and keep writing more stuff. I've had to find perspective as I've gone through the process of revision.
B) I trusted a lot of people and services without really looking into them first. I think had I been more patient and detached, I might have dealt with far less frustration during various phases of production.
C)See above answer, definitely. Figuring out the best choices as to where to focus my resources. I work very hard to make myself keep putting myself out there.
When do you think you will you write your next book?
I've written it! I have a finished prequel to The Persistence of Memory, which two separate editors have encouraged me to send out to find an agent. They think that although like the trilogy it's experimental, it's a strong, interesting story and deserves traditional publication. Right now I'm working on book five in the series.
Are you self published or did you use a hybrid publisher, or a traditional publisher?
I self published with the help of another agency, Mill City Press.
FEATURED AUTHORS
Interview with Darrell K. Jackson
Author of  The Sign of Christ If you currently reside somewhere besides where you read more
Keep Reading »