Interview with Michael C. Sahd
Author of  The Unfettered Child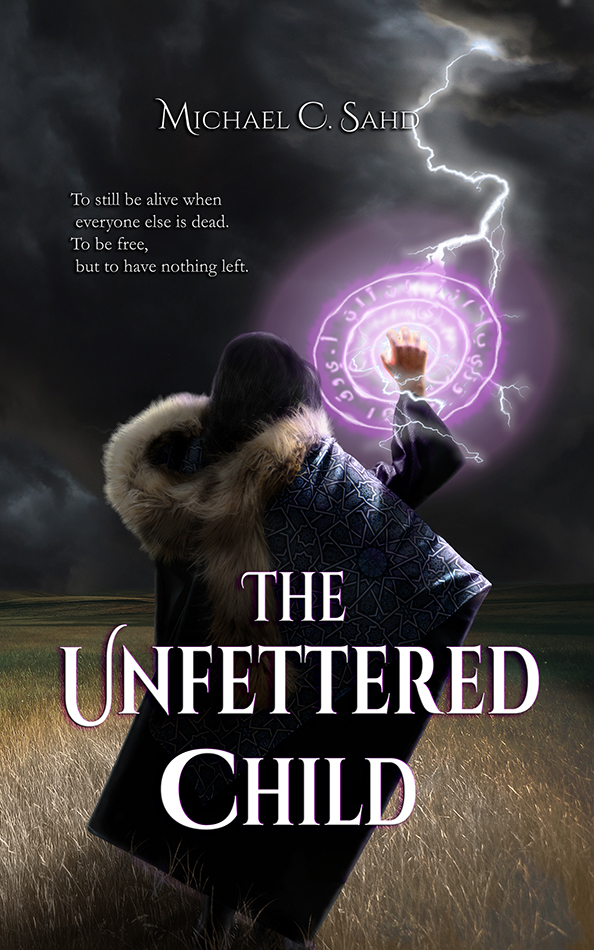 Where are you from originally and where do you reside now?
I'm originally from Santa Fe, New Mexico, but I currently live in Early, a small town nestled into the heart of Central Texas.
If you currently reside somewhere besides where you were born, what's the story that lead from there to here?
This story could be a book in itself. I first moved to Central Texas when I was 14, after my father got in touch with an old college sweetheart. I finished high school in Central Texas and then joined the military. When I returned from training, I briefly dated a wonderful girl, but shortly after our relationship began, I moved again, this time to East Texas.
I wasn't there long before my dad passed away. I lived with my step-mother after that for a number of years, during which time I completed my certificate in horology and jewelry design. After that, I moved back to Santa Fe, where I worked in a jewelry store while working toward my literature major/creative writing degree.
Then one day, out of the blue, the girl I had dated when I lived in Central Texas contacted me, and following in my father's footsteps, I moved back to be with her. We are now happily married with four children.
What made you decide to write and publish your first book?
Coincidentally, my wonderful wife is also a professional editor on UpWork. She knew how much I wanted to be a writer, so she grabbed one of my short stories, "Assassin Marked," edited it, then pushed me to publish it. At that time, I had already begun working on "The Unfettered Child."
How would you describe your books to first time readers?
I tend to write dark themes. I like horror stories, thrillers, and Stephen King is a huge influence, so reader beware. Some readers were apparently disappointed with "The Unfettered Child" because they were expecting Harry Potter fan fiction but instead got something else, something dark. So I would tell them to not expect a Disney ride, but a roller coaster. As one of my reviews say, "This book is not for the faint of heart."
Honestly, "Assassin Marked" is not my typical style, but I'm going to keep going with it. To these readers, I would say if they like "Firefly" or "Cowboy Bebop," then they would like this book and the upcoming series.
Who do you feel is most likely to connect with the topics you write about?
I believe this will vary widely as I publish more books, but I think readers that like a little horror in their fantasy will like "The Unfettered Child." Perhaps people who have experienced loss or betrayal. I'm really not sure.
What unexpected or surprising thing did you learn during the process of writing and publishing?
I've learned so much, but I think what surprised me most is my ability to actually pull a novel off. I had been so intimidated by the idea that I never actually tried to do it. Now I'm more challenged by designing a plot, it seems. I like to let my characters take over the story, and when I plan a plot, my characters may or may not always agree with my plan.
If you could, what advice would you give to your past self before embarking on this journey?
Just do it, and stop letting trivial things get in your way. Write your stories, and then find an editor. That's only half the challenge, my friend. If you can't do that, you'll never make it. Once you finish your book, that's when the real challenge starts.
How many people would you ideally like to reach with your books?
As many as possible.
What has been the biggest challenge and frustration during the process to date?
Putting myself out there has been the most difficult thing. I'm not much of a socialite, and I'm not good at talking to people.
What's your biggest strengths when it comes to book a) writing, b) publishing and c) marketing?
When it comes to writing, I believe my biggest strength is the ability to come up with a character. It's actually my favorite part.
My biggest strength when it comes to publishing is that I have this amazing wife who knows what she is doing and actually does a lot of the footwork for me. She knows how to format the documents properly for submission. Sometimes I come in and help, because I know my way around Word really well, but she prepares everything while I work at my 8-5 day job. This also applies to marketing.
I think my biggest strength in marketing, however, is that I know how to do photo manipulation and create nice banners. I designed all the pictures, videos, and ads for "The Unfettered Child" and "Assassin Marked."
What's your biggest weakness when it comes to book a) writing, b) publishing and c) marketing?
I'm terrible about using the same words repeatedly, and I'm also very bad about modifying the wrong nouns. Thank god for editors, right?
Rushing to get the document done in time for the publication date was perhaps the biggest weakness when I published "The Unfettered Child." I had another chapter I wanted to include, but I didn't finish it in time. It may come out at a later date in a revised edition sometime in the distant future.
I think my biggest weakness when it comes to marketing is how much money I have to spend to do it effectively as an independently published author. It can get very expensive.
When do you think you will write your next book?
I have already started. I'm four chapters in, and I plan on making a huge push during NaNoWriMo. I'm hoping to publish it around this time next year, but it may take longer than that to get it completely ready.
Are you self published or did you use a hybrid publisher, or a traditional publisher?
I'm completely self-published.
FEATURED AUTHORS
Interview with Darrell K. Jackson
Author of  The Sign of Christ If you currently reside somewhere besides where you read more
Keep Reading »