Interview with Paul Kiritsis
Author of  The Creative Advantages of Schizophrenia: The Muse and the Mad Hatter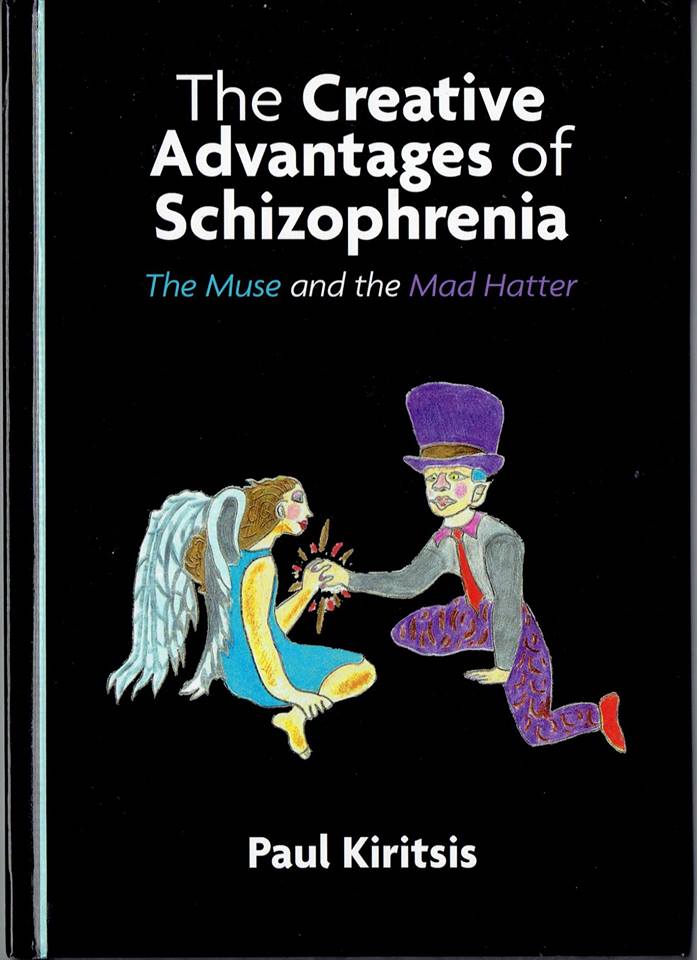 Where are you from originally and where do you reside now?
I was born and bred in Melbourne, Australia, to migrants from northern Greece. Save for an 8 month extended sojourn in Greece proper, I have always lived in the bustling city of Melbourne. Five years ago I relocated to the San Francisco Bay Area.
If you currently reside somewhere besides where you were born, what's the story that lead from there to here?
Well I moved to the San Francisco Bay Area in September of 2014 to pursue a doctorate degree in clinical psychology with Sofia University (formerly the Institute for Transpersonal Psychology). I have been living in the Bay Area since that time. After turning 30 a strong philanthropic urge kicked and I realized that I wanted to be of service to individuals who were experiencing psychological distress. I also realized that much of my acquired knowledge had a practical application in the field of mental health. At the time I came across a book written by the British psychotherapist John Rowan mentioning a school in Palo Alto, CA, called the Institute of Transpersonal Psychology with a transpersonal and more integrative/holistic approach to convalescence. I never thought twice about the travails and tribulations of moving continents; I applied, was accepted, and moved to the SF Bay Area in September of 2014 for the Fall Quarter. The rest, as they say, is history.
What made you decide to write and publish your first book?
Writing has always been an extension of my authentic self. I wrote my first poem when I was around 12 and have been writing consistently since that time. My writing reflects my deepest concerns, tribulations, hopes, aspirations, and vulnerabilities and I had equivocal feelings about publishing it for the reason that it becomes rubric for the public to appraise and evaluate. My first book, Origin: Poems from the Crack of Dawn was self-published in 2006 through a company called PageFree Publishing and showcased poetry heavily influenced by the culture of ancient Egypt.
How would you describe your books to first time readers?
Deep, evocative, philosophical, solemn, interdisciplinary, and integrative.
Who do you feel is most likely to connect with the topics you write about?
Individuals who resist sociocultural conditioning, are mentally flexible, resist dogmatic beliefs of any kind, and are sophisticated, perspicacious, and open-minded in the formation of their worldviews.
What unexpected or surprising thing did you learn during the process of writing and publishing?
To be candid I learned the art of patience, given that so much in the publishing process is not amenable to personal control. I also learned to do the very best with things that I can control or manipulate, and to leave the rest to the ineffable universal forces – whatever will be, will be.
If you could, what advice would you give to past self yourself before embarking on this journey?
Definitely to be more discerning and introspective when it comes to publishing deals, and to hunt around for the best offers. A younger Paul would frequently cede to impulse and the allures of immediate gratification, much to my financial detriment.
How many people would you ideally like to reach with your books?
I always try to resist the urge of thinking in quantitative terms; in my eyes the gratification which comes from touching, affecting, influencing, motivating, or inspiring one person is no different from touching, affecting, influencing, motivating, or inspiring one or ten million. You've made a difference either way.
What has been the biggest challenge and frustration during the process to date?
Securing a traditional mainstream publisher for my Magnum Opus, an extensive literary travelogue focusing on Greece proper which took me roughly 4 years to write.
What's your biggest strengths when it comes to book a) writing, b) publishing and c) marketing?
My biggest strengths in each of these respective domains is:
(a) Writing is definitely my forte and I am quite confident when it comes to expressing ideas, thoughts, concepts through the written word.
(b) I have been publishing material since 2006, and am quite familiar with the existing online continuum of publishing and writing resources which are of prodigious utility when it comes to pitching a book to a specific audience and rendering it legitimate.
(c) I have established some semblance of an online platform and can market my books to a specific audience.
What's your biggest weakness when it comes to book a) writing, b) publishing and c) marketing?
My biggest weaknesses in each of those respective domains are:
(a)Tendencies to overwrite (becoming verbose) and trying to find the most precise word for a specific context. I'm a lover of the English language and of words in general, and I can get wordy.
(b) Getting very excited about the whole process and becoming blasé and inattentive when it comes to internalizing some of the specifics and logistical pieces of the publishing process.
(c) I become discouraged very easily if my initial marketing efforts are not immediately fruitful.
When do you think you will you write your next book?
I'm currently putting the finishing touches to a book on precognitive dreams which is scheduled for publication through Cambridge Scholars at the end of this year. I'm concurrently working on two others as well; a work of fiction which recounts the life of the Egyptian Isis and a non-fiction book co-authored with the clinical director of my school which pertains to natural phenomena standing outside the frontiers of mainstream science.
Are you self published or did you use a hybrid publisher, or a traditional publisher?
My first four works were all self-published though PageFree Publishing, iUniverse, and AuthorHouse. I currently have a two-book contract with an academic publisher from the UK, Cambridge Scholars.
FEATURED AUTHORS
Interview with June Bratcher
It is going to be tough, especially in a business dominated by men. But read more
Keep Reading »