Interview with Shana Gorian
Author of Rosco the Rascal and the Holiday Lights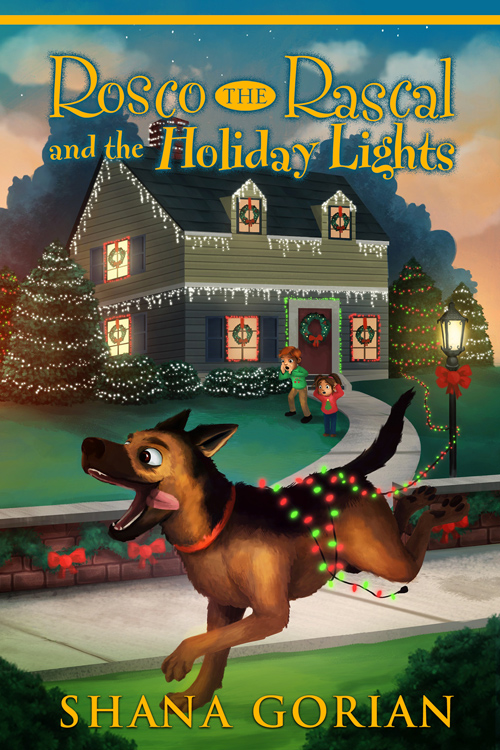 Where are you from originally and where do you reside now?
I'm originally from Pittsburgh, Pennsylvania. I currently live about an hour northeast of San Diego. I've been living in southern California for 20+ years now but I still think of myself as an Easterner.
If you currently reside somewhere besides where you were born, what's the story that lead from there to here?
In 1995, about a year and a half after college, I was between jobs, hadn't quite figured out what I was going to do with my life yet, and was looking for a little adventure. A good friend and old roommate of mine had moved to San Diego a year before and she was loving it. So I told a few other friends I was thinking of moving there too, just for a year or two, and the next thing I knew, we had all decided to throw caution to the wind and try out the West Coast for a while. You're only young once, right? After several years, I met my husband, a native Californian with a big family nearby, and the rest is history.
What made you decide to write and publish your first book?
I've loved reading and writing all my life, and I was always thinking up stories as a child. I earned my B.A. in English Writing from the University of Pittsburgh and probably should've gone on to work in the field immediately. But unfortunately, my story is more about taking a lot of wrong turns in order to get to the right place (*grins). My B.A. focused on journalism rather than fiction, and later, I pursued a career in Graphic Design, having gone back to school after moving to San Diego, for a certificate in the field. Starting about the time the internet was making its way into our everyday lives, in 1998, I started learning to design web sites, (hardly anyone was doing this back then) and I went on to design web sites for various entities for about a decade. During that time, my husband and I married, and eventually, I decided to stay home to raise our two children.
Years later, once they were both off to elementary school, I picked up the pen (*keyboard), and started writing again. Like many young families, we visited the library a lot. Reading all of these children's books inspired me to start writing my own stories again. Soon, I'd written one for my kids about our mischievous new German shepherd. It started as a picture book, but ultimately, I turned it into a novel so it would appeal to my youngest, who was already in first grade, and I published it myself. And like many self-publishers will attest to, once I put out the first book, I was hooked on the process, the freedom, the chance to express myself, and the creative outlet I'd enjoyed all my life. It didn't take long before I decided to create a series based on the characters, and eventually, made plans to keep it going for many more books.
I can't tell this story without adding that my older sister, Gaelen Foley, is a NYT and USA Today Bestselling Author of historical romance and played an important role in suggesting I turn the picture book into a novel. She was traditionally published for a couple of decades and has been hybrid for quite some time now, and also writes middle grade with her husband under the pen name, E.G. Foley. Both she and my brother-in-law have been not only a huge inspiration for me but tremendously helpful in learning how to self-publish.
How would you describe your books to first time readers?
My books are for kids 6+ about a sometimes rascally but always lovable German shepherd who uses his true heroic nature to help his human pals find adventure and overcome obstacles. The contemporary stories are sometimes humorous and sometimes dramatic, but always action-packed.
Who do you feel is most likely to connect with the topics you write about?
My books actually have three protagonists: Rosco, the dog; James, the ten-year-old boy, and his sister, Mandy, a seven-year-old girl. Some books focus on one story in which the kids have an adventure together, while others focus on the boy's and the girl's stories separately, then weave them together by the end. So, I feel that the books appeal equally well to boys and girls. All of the books, however, depict the stories from Rosco's point of view.
The ideal age group for the books is Kindergarten through fourth grade. It's technically called early middle grade—a step above chapter books in vocabulary and sentence structure, but a step below true middle grade in both length and maturity level of the intended audience. (Standard middle grade is for ages 8-12).
What unexpected or surprising thing did you learn during the process of writing and publishing?
So many things! I started in 2013 and since then, I've been learning— often the hard way, as is my plot in life, it seems—ever since. Mostly, I learned that writing books can be very fulfilling and that there is nothing more motivating than working for yourself!
If you could, what advice would you give to past self yourself before embarking on this journey?
Great question. I think I'd tell myself not to cut any corners on hiring contractors for editing, illustration, formatting or cover design, and just take the most professional route the first time, even if it costs more, because it will pay off later. It always costs more to fix it than if I'd just done it right the first time.
How many people would you ideally like to reach with your books?
Millions, of course! (*more grins) I've actually had a screenplay professionally developed (based largely on my first book, Rosco the Rascal Visits the Pumpkin Patch, although the story we created is completely fresh and doesn't follow the book), and it's currently being marketed to producers in Hollywood. I hope to reach a much wider audience with it and would love to see Rosco the Rascal make the leap from page to screen.
And because the books are evergreen titles, intentionally, since they're based on various seasons and holidays, this means they come back into season once every year, so I market them this way, over and over again each year. The beauty of writing for kids, too, is that kids are always growing, and their interests and reading levels change quickly (relative to adults' interests etc.), so there are always more kids who have grown into just the right age group for one's books. So, as I see it, the glass is always half full and there are always going to be new kids to whom I can introduce my series—a high turnover, lol.
What has been the biggest challenge and frustration during the process to date?
My biggest challenge is not having enough time to write the books as quickly as I would like to. I've got so many ideas for stories, but because self-publishing requires, to some extent, being a jack-of-all-trades, writing is only part of the equation. Because no matter how great a book is, to sell it, it must be marketed, whether by blogging, social media, direct advertising, content marketing, or simply by curating reviews. Then, there are book signings, school visits, book festivals to attend. Don't forget networking, researching, and bookkeeping, and other training. For example, learning how to format a manuscript file for print and for ebook, learning how to market in the first place, learning how to get a book into a library or a brick-and-mortar bookstore—and the list goes on. Fortunately, my background in web design and Photoshop has helped me tremendously in creating both an online presence and a brand for my series, so I was able to make that hurdle easily enough. But for other authors who've never created a web site or a jpg before, that, too, is something to take on.
What's your biggest strengths when it comes to book a) writing, b) publishing and c) marketing?
My biggest strength, in my opinion, in terms of a) writing, is world-building. I generally come up with a plot by starting with the setting. I love to describe the places in which my characters find themselves, and I've been told by readers that they love this about my books. Many authors work in the opposite way, starting with plot (which is really the most important thing, ultimately,) but setting is what inspires me to create a plot, and we authors must follow our muse! (This might be why I love to travel—new settings to inspire me.)
My biggest strength, in my opinion, in terms of b) publishing, is my attention to detail. I am a list-maker, and I do not procrastinate (most of the time!) In fact, I get all bent out of shape when I can't get to things on schedule. Self-publishing requires juggling a lot of things at once, and not going crazy while doing so. I think I'm pretty good at that, because I'm still here, still doing this, and (basically,) still sane.
My biggest strength, in my opinion, in terms of c) marketing, is that I love marketing. Most authors will tell you they absolutely despise marketing, and I think that's because so many authors feel more comfortable behind the scenes, which is great because this personal quality probably makes for the best books!
But even the best books will meet a sad fate if they are not put in the hands of readers, so, self-published authors must market. And extroverts love marketing. I have finally realized about myself, over the past six years in this business, that I am one of those less common 50/50's; half introvert/ half extrovert. This means that I love to be alone and write and work for long periods of time—I really love it! But it also means that I'm just as happy to be out there dinging the bell about my books. When something is enjoyable, one will put more effort into it, and that's basically what drives me—the fun of it.
What's your biggest weakness when it comes to book a) writing, b) publishing and c) marketing?
My biggest weakness, in my opinion, in terms of c) writing, is plotting. I used to be what they call a 'pantster', someone who writes 'from the seat of their pants', without outlining the whole story first. In other words, I'd just start writing and see what developed. While this works well for some authors, I've become an 'outliner', which has helped me so much, because my very organized left brain is finally helping my wildly creative and rather unsystematic right brain, so that the two can eventually meet somewhere in the middle, and come up with an original, yet also, structured, well-paced story, and one that gets finished. Outlining has become much easier, but I still have loads of improvement to make on how to create the best plot for an idea.
My biggest weakness, in my opinion, in terms of c) publishing, is wasting time on trying out other avenues to give my business a boost, otherwise known as 'shiny light syndrome'. When one chases other opportunities, (like monetizing a blog, for instance, without the chance of ever actually monetizing that blog, sadly) instead of sticking to the tried-and-true, (like writing and publishing more books) one is said to be chasing a shiny light. When one chases too many shiny lights, one wakes up and it's two months later, and one has nothing to show for it. (*sigh)
My biggest weakness, in my opinion, in terms of c) marketing, is sometimes taking too many chances and wasting money. There are a lot of ways out there to spend money marketing a book these days. It's the 'wild west' anymore in terms of deceitful, would-be 'experts' with offers that promise to make you the next big thing, preying on either disillusioned or naive authors, and I've fallen prey, myself, more than once.
When do you think you will you write your next book?
I am already working on my next book in the Rosco the Rascal series! It will be my sixth book, and I'm expecting to publish it in February or March of 2020. In this story, Rosco and the kids visit a ghost town in the American west, uncovering some haunting secrets about the local silver mine.
Are you self published or did you use a hybrid publisher, or a traditional publisher?
I am self-published and loving every minute of it.
FEATURED AUTHORS
Interview with Darrell K. Jackson
Author of  The Sign of Christ If you currently reside somewhere besides where you read more
Keep Reading »