Interview with Nidhi Tibrewal
Author of Discover Yourself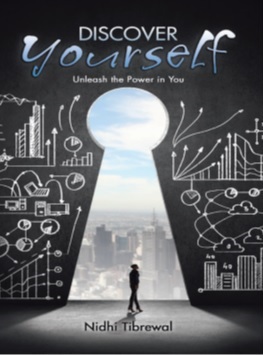 Where are you from originally and where do you reside now?
I am from India and currently residing in India as well.
If you currently reside somewhere besides where you were born, what's the story that lead from there to here?
NA
What made you decide to write and publish your first book?
I am a member of the Art of Living founded by Shree Shree Ravi Shankar. The experience and the knowledge I had gained during the interactive sessions and the turn it took to my life motivated me to write this book. I wanted to share it because knowledge is something that the more you share is the more you gain.
How would you describe your books to first time readers?
What exactly comes in your mind when you read the word discover? Conflicting thoughts and ideas or might be a feeling of trying to disclose things but when the word "yourself" is added to it then there is a diversion in your thoughts. Then you might be feeling like reflecting upon your past, present and future to find out, what you were? What you are? And what you will be?
"History repeats itself". This is the main reason why we look at the past and learn from it so that we do not make the same mistakes. Most of the readers might have manipulated what I am referring to. Yes, the similar is the case with our lives. When you try to find out "what you were?" Then you try to analyze what mistakes you have made in the past and when reflecting upon it we try our best not to make similar mistakes further.
If someone wants to find out "What you are?" then disguise yourself so that people do not recognize you and discuss with your near ones in order to find out about yourself. Surely you will come to know of your various aspects and most of them will be the ones which you were unaware of and there would be few which might leave you astonished or make your hair stand on end. I am pretty sure that after that experience most of us would have lost our peace of mind because people unfold only those aspect of an individual which they see and you know that "Appearance is deceptive".
A cup of coffee in your hand, a nice weather outside, an eye capturing surrounding around you; what else do you need in order to delve deep into your mind and analyze "what would I be few years down the lane of life?" Each one of us have a picture in our mind; the picture of our forth coming future. Few of us strive hard every day to bring that picture into reality, few might be struggling to formulate that picture so that things work out and rest keep that picture limited to their mind without trying to convert it into reality.
The above three scenarios cover the basic understanding of most of us of what discovering yourself could be. But here comes in the twist. We still fail to discover, rather we are left confused about things, about situations and moreover about ourselves. So where did we go wrong? I believe we were never wrong but the perspective was wrong. If we could see the above scenarios in a different perspective then I am pretty sure that we will be successful in our objective. I believe you might have guessed what objective I am talking about. It is the objective of seeing those things which were unseen.
This new perspective deals with differentiating oneself from situations, past, present and future and seeing only what we are as an individual and what makes us complete. This is what my book "Discover Yourself "deals with.
Who do you feel is most likely to connect with the topics you write about?
People of all ages can connect with the topics that I write about because they are motivational ones which is something you require throughout your life. It is like a backbone that supports you in times of testimony and when you start giving up.
What unexpected or surprising thing did you learn during the process of writing and publishing?
Writing is like the flow of emotions and feelings in the form of words. When you start this process of writing you feel like you are living a different life completely out of the world. When you merge yourself in the sea of creativity then is what the output in the form of writing emerges.
If you could, what advice would you give to your past self before embarking on this journey?
The gift of God is creativity and to utilize it to the fullest extent is the duty of mankind. If my writings inspire someone and brings in colors of joy to anyone's life. It awakens the dead soul to start a new life then I would be satisfied that I have earned my reward as a writer.
How many people would you ideally like to reach with your books?
I want to reach the whole world across the globe through my writings. If I am able to accomplish it, it would be like a dream come true. This is my aim in life and hopefully I will achieve it someday.
What has been the biggest challenge and frustration during the process to date?
The biggest challenge was the marketing of the book. It could not reach to the whole population as well as the price was high. I want it to reach to the masses but due to these constraints people were not willing to buy the book. However I believe down the line there will be reduction in the price and it will surely reach to each and every person in the world.
What's your biggest strengths when it comes to book a) writing, b) publishing and c) marketing?
Writing is my biggest strength. When I hold my pen it feels like the flow of thoughts automatically comes in and the pen gradually moves translating them into words. I feel like my imagination turning into reality and in that process the outcome is the writing. When your mind stops thinking and you start feeling your heartbeat it is then that an extraordinary piece is created. Having felt those moments I believe myself to be one of the luckiest in the world.
What's your biggest weakness when it comes to book a) writing, b) publishing and c) marketing?
Marketing is one of my weakness since I do not have an appropriate channel who can help me with reaching the masses and majority of the people.
When do you think you will write your next book?
I am currently working on a book My 100 Poems and hope to complete it by end of 2021
Are you self published or did you use a hybrid publisher, or a traditional publisher?
Self Published
FEATURED AUTHORS
Interview with Bruce Matson
This is a fact based book that will astonish both people of faith and read more
Keep Reading »